About The Kalamunda Plant Company
I'm fascinated by edible and medicinal plants.
I think it's important to promote the kinds of plants I (and others) grow and offer them to gardeners, along with education and some information about their history and use.
Sometimes you can go from nursery to nursery and a lot of the plants are the same. I think variation is important.
Am I an expert? No. Am I passionate about learning? Yes.
I believe it's important gardeners are given more choices. There are many wonderful plants that you just don't see around much anymore. Plants that have been used for hundreds, if not thousands of years that we know of. Introducing these plants to gardeners is important.
My aim is to help keep your garden productive and abundant with loads of fresh food, to offer education on how to get the most out of your plants and to understand the benefits of growing your own food.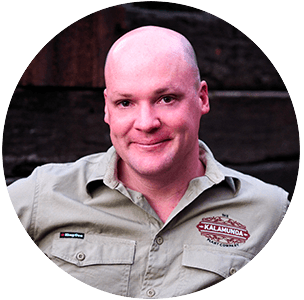 "Plants are amazing. I don't think many people realise just how incredible they are.

X. Andrew.
Andrew
(Adv. Diploma of Horticulture)
Andrew is a proud former Police Officer. After sustaining a permanent spinal injury during a violent arrest, Andrew's well-known smile faded over the years and he knew some big changes had to be made to get things back on track.
Andrew has always loved growing plants. He gained his formal qualifications and started the Kalamunda Plant Company in 2018. He fell in love with edible and medicinal plants. As his hunger for knowledge grew, he realised just how much he enjoyed sharing his findings with others and watching them succeed. Before too long, Andrew's beautiful smile returned and he's been growing happy, healthy plants ever since.
Andrew wanted to share his love of plants with an even wider audience so he started the Kalamunda Garden Festival, a free community event celebrating gardening and good mental health. Andrew funds the event himself and he's very proud of the beautiful gardening family that makes the event such a success.
The KPCo operates solely online via the website and Facebook.
The KPCo does not have a nursery that's open to the public.
I pride myself on growing everything I sell on this website.
I don't use pesticides, fungicides or herbicides.
I am more than happy to answer your gardening questions and help you get the most out of your garden.
If you're after a certain plant that isn't listed on our website, please let me know.
VISIT THE SHOP