Garden design can be fun and easy. Why not give it a go?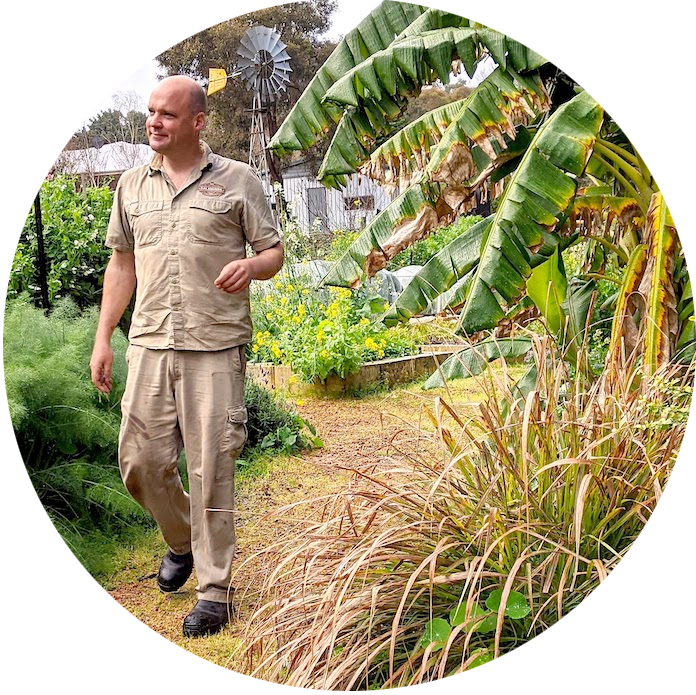 I love designing gardens that enrich family lives. I love tyre swings, tree houses and gardens for children. This is where I'm in my element. I love honest gardens that serve a purpose.
Garden design might be a little overwhelming for some, but don't doubt your abilities. Designing your own garden or part of a garden is a really exciting thing to do and doesn't have to be hard. It's your garden, your space, your little piece of magic.
Think about what you want, about what inspires you, what makes you happy – then start making it happen.
It can start with a simple sketch or perhaps a single planting of a tree then just add to it from there. You can be calculating in your approach or just run with it. It's a chance for you to create something wonderful.
I've made some basic notes below that may assist you in designing your garden. If you have any questions or need some more tips, just ask. I'm always just an email away.
Andrew.
Write down your needs, how much you're willing to spend and provide a realistic time frame in which you want the garden to be completed.
Your needs could include a vegetable garden, a herb garden near the kitchen, a shed, a chicken run or a play area for the children. Consider whether you have the money to build the garden in one hit or whether you'll budget for it stage by stage and work over a period of time. Think ahead and plan for the future. Do you plan to have children in the future, have dogs, or will you be going on frequent extended vacations? Think about the location of a clothes line or storage areas etc.
Think about your wants. These could include the style of garden. Do you want an easy care garden? Do you want a lush garden, or big open spaces? Do you want privacy from the road or neighbours? Do you want a productive garden filled with fruits, vegetables, berries, nuts and herbs?
Remember that this is your garden so it should complement your lifestyle and be unique to you or your family. Do you like to entertain a lot with family and friends? Consider open areas outside with lots of room. Do you like to potter in the garden and have lots of exciting little places and various intriguing plants? Do you have outdoor pets?
When choosing plants (this is the fun part) think of the plants as needing to fulfil roles. I don't initially think of a certain plant that I want, rather than what I need it to do for me.
For example, if I'm wanting to screen a neighbour's shed, I want a plant that with retain its leaves all year and grow to 3-5m in height. I don't want it growing too wide and wandering into the neighbour's yard, so it'll have to be narrow in shape.
From here I refine my choices, exclude deciduous trees and those that don't fit the height requirement. Once this is done, I have a selection of plants that are suitable for the job.
Then I can explore what different plants can now offer me and my garden. For example, I'd like a plant that flowers. I'd prefer a native flowering plant to attract birds and insects. After a few simple steps, plant selection becomes quite easy.
Another example would be needing an area shaded from the summer sun whilst allowing lots of light into the area during dark winters. In this situation, a deciduous tree would be ideal. From there we can explore any shape and size requirements, foliage colour, whether you want flowers etc.
Please consider your soil type and take the time to understand the importance of soil and planting the right plants for your soil type. Newly built housing estates usually remove the topsoil and replace it with sands, often from unsustainable sources. You'll need to enrich your soil with organic matter months before you start planting. This will allow soil microflora and worms to recolonise and develop a more suitable planting environment.
Native plants are those that naturally live in Australia. You could have natives in your garden that actually come from as far away as far north Queensland. Planting local and native plants is excellent. But just because you plant these types of plants doesn't mean you have to have a bush style garden. These plants can be incorporated into any design, from formal, classic style gardens through to food productive and alternative style gardens.
Don't feel guilty about buying exotic plants. Exotics are those that come from other countries. I love the incredible variation found in exotics. My own garden comprises hundreds of exotic varieties with equal amounts of Australian natives. You can mix and match them too and they can look fantastic together. Not all exotics are water thirsty either. Lots are very drought tolerant, so you can still enjoy exotics whilst being conscious of your water use. Most fruit trees, herbs and vegetables are exotics.
Check what services (gas and water pipes, electricity cables, leach drains) are under and above ground and what you need to be aware of. Are you intending to live at the property for a long time? How much maintenance are you willing to put into the garden?
If you're re-designing your garden, what are the current issues that you want to overcome? What do you like about your current garden and what elements do you want to keep? Do you like a certain style of garden (Mediterranean, cottage, tropical etc.) or do you want to come up with your own style?
I've found lots of people overlook the importance of fragrance in a garden. Beautiful fragrances can stir all kinds of feelings and will take your garden to a whole new level. I always plant fragrant plants (such as orange jessamine and gardenias) outside all the bedrooms. Waking up in the morning has never been so wonderful.
I've been designing and planting my own latest garden for the past four years and I'm still not finished. I'd like to think that no garden will ever really be complete. The thought of a garden not evolving seems sad. There's no fun in that.